No, this is not about watches in flying saucers, but about the three Certina watches that were used as props in the British television science-fiction cult series "UFO", produced in 1969/1970. UFO was first broadcast in the UK and Canada in 1970, and in US syndication over the next two years.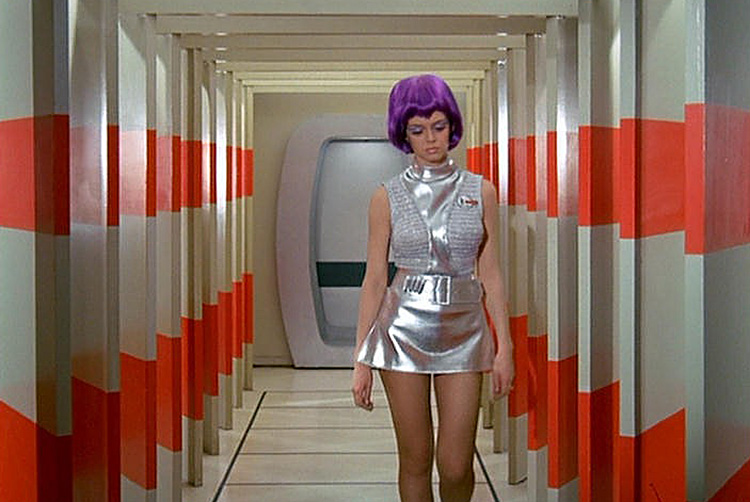 In the 26 episodes, the secret government organization S.H.A.D.O. (Abbreviation for Supreme Headquarters Alien Defense Organization) fights against hostile aliens who kidnap people and threaten the earth. Commander Ed Straker (played by Ed Bishop), head of S.H.A.D.O. and his team are equipped with various futuristic vehicles and spaceships. The story takes place in 1980.
The equipment of the series was in the style of the late sixties, just a bit more shrill. The highlight (apart from the moonbase girls) were the elaborate models of spaceships and stations by Gerry Anderson, who later also produced Moonbased Alpha 1. But as already mentioned, this article is about the Certina watches used. The following models had an appearance:
Certina Certiday "UFO" Automatic Ref. 5901 173
This model was Commander Straker's "service watch" and he wore it in all 26 episodes. Only in the flashbacks of Episode 14 he is wearing the Argonaut chronograph which I shall introduce later. He wore it very prominently and you can see the watch very often. It is thus one of the most important movie prop of the series. When the filming ended, the producers, Gerry and Sylvia Anderson together with Reg Hill, presented Ed Bishop this watch with a personal inscription on the caseback (see picture).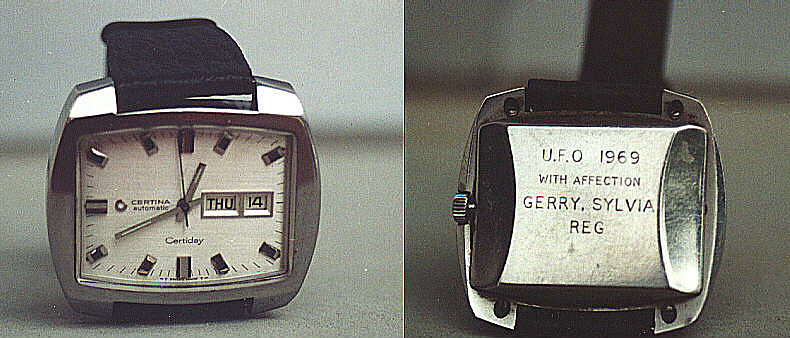 Ed Bishop wore it until his death on June 8, 2005. Afterwards, she passed over to his family, which they have now handed over to the operators of the fan site isoshado.org, Marco Raffa and Paolo Malaguti as a loan.
The used watch is an automatic model with the Certina 25-652 caliber with day and date indicator. Equipped with a at that time, hip angular so-called TV dial. It has a monocoque case, meaning that It does not have a screwed or pressed caseback. The watch must be opened via the crystal. This model was presented for the first time in 1968 at the Basel Fair.
Model
Reference
Calibre
Dimensions mm
Comments


Certiday Automatic
5901 173
Certina 25-652
40 x 35.5 x 11.5
BA: 20
Day and date without quickset
Recessed crown
Various dial versions
About from 1968 to 1970
The second watch, which Commander Straker wore on duty was a…
Certina Argonaut Chronograph Ref. 8501 001
In the third episode "Flight Path" you can see the striking chronograph on the arm of the doctor in the yellow coat (approx. 11'14"). In Episode 14, "Confetti Check A-O.K." which is a flashback in the time before Shado, Commander Straker is still wearing this model instead of the Certiday.
The chronograph with the edged cushion case has a size of 38 x 42mm and because of its big size it is very present on the wrist. It is the reference 8501 001 with a so-called "Reverse Panda Dial". This is a black dial with three white totalizers in a tricompax arrangement. Here, however, individual red accents have been set which make the watch look even more sporty.
According to the engraving on the cock a Certina 29-052 is working under the dial. This is a labeled Valjoux 726 which was also used for example from 1965 in the Rolex Daytona before 1988 the Zenith El-Primero was installed. Certina has developed many calibers, but unfortunately never a in-house chronograph movement. There were other variants of the Argonaut Chronograph available which you can found on the linked page.
Model
Reference
Calibre
Dimensions mm
Comments


Argonaut Chrono
8501 001
Certina 29-052
Valjoux 726
38 x 42 x 12
BA: 19
Manual wind. No Date
Black dial with three white sub dials
Black tachymeter scale
About from 1968 to 1972
It goes on with the most popular and desired watch in the trio, the …
Certina DS-2 Super PH500m Automatic Ref. 5801 123
In episode 3, "Flight Path", SHADO member Paul Roper (George Cole) is wearing a DS-2 Super PH500M over his space suit as he waylay the Alien UFO (about 43'07") in an outer mission on the lunar surface and take it out by means of a rocket launcher. The watch appears twice royally full screen, so you ask yourself whether product placement was involved. Later on, in episode 13 "Close up", Captain Waterman wear it on the Skydiver command bridge (about 2'00").
Well, I guess I do not need to introduce this watch. The DS-2 Super PH500M is one of the most sought-after vintage watches from Certina. Finally, it is a trendy diving watch in a massive case and thanks to the Tektite experiments it has an interesting historical background. If you do not know it already, you can close this lack of knowledge here .
There were two different dial versions of the reference 5801 123. The one with the "cross-dial" was used in the series. In the watch, the automatic caliber 25-651 performs its work which is protected by a 43 x 48 x 16.5mm case up to a depth of 500 meters. In order to be able to rotate the bezel, it must be pressed down. This minimizes the risk of accidental adjustment. The model also came onto the market in 1968.
Model
Reference
Calibre
Dimensions mm
Comments
DS-2 Super PH500M
"UFO"
5801 123
Certina 25-651
43 x 48 x 16.5
BA: 19
Automatic. Date without quickset.
Black "Crossdial", printed indices.
Screw down crown. Water resistant to 500 metres.
From 1968
How did it happen that even three Certina models have some quite prominent gigs in this show? Unfortunately, I do not know it. The three producers are deceased by now and can no longer be consulted. Perhaps the designer was a Certina fan too or was it product placement by Certina or a distributor after all? We'll probably never know. So let's enjoy the exciting episodes and the beautiful watches (and of course the moonbase girls).
Related links
Published: 03.19.2017
The author of vintagecertinas.ch is not responsible for any contents linked or referred to from his pages.