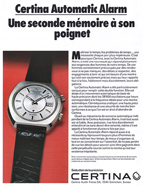 The Certina Alarm (Ref. 681 3750 41) was the only mechanical alarm wristwatch ever manufactured by Certina. As movement, the proven AS 5008 (here labelled as Certina 681) from manufacturer Anton Schild was used. Yes, you read that right! It is not the AS 5007 as you can see from some example photos. This movement actually has a day and date indicator, although the day indicator was omitted. Both barrels were self-winding.
The AS 5008 was produced approximately 175'000 times between 1973 and 1977, therefore it is relatively rare. It is a quite remarkable piece of mechanics with a beat of 28'800 A/h, quickset date, hack mechanism, Incabloc shock absorber, fine adjustment and the said alarm function.
Unfortunately, the caliber and the corresponding watches came to the market at a time when the quartz watch was on the rise and therefore watches with an alarm function were available at a much lower price. In 1974, the Certina Alarm cost the proud sum of 425 Swiss Francs. It was available with a leather or steel bracelet.
Various dial versions were available, some two-colour models as well. Some variants had the appliquéd Certina logo, some variants had a dot, others had a triangle as an indicator of the alarm.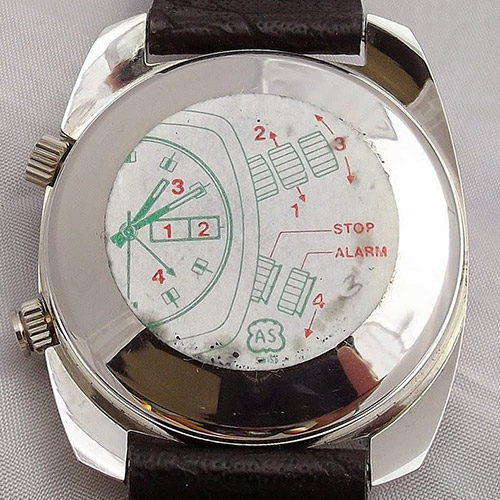 With the crown at 2 o'clock you can (in addition to the self-winding barrels) manually wind the watch. To set the date, you have to pull the crown at 2 o'clock to the first position/click and turn it in a clockwise direction. If you fully pull out this crown, you can set the time. The Alarm can be (in addition to the self-winding barrels) manually wound with the crown at 4 o'clock. To set the alarm, pull crown at 4 o'clock and set the alarm time. The alarm time can only be set in reverse. Setting forward is prevented by a free wheel. To enable or disable the alarm, pull and push, respectively, the crown at 4 o'clock. Sounds complicated? You will find a small illustrated instruction in the adjacent picture.
Model
Reference no.
Calibre
Dimensions mm
Comments
Alarm
681 3750 41
Certina 681
AS 5008
D: 39.0
H: 14.0
LW: 20
Self-winding movement, alarm mechanism
Various dial versions, partially without
appliqued logo.
About from 1973 to 1977
Alarm
681 3750 25
Certina 681
AS 5008
D: 39.0
H: 14.0
LW: 20
Self-winding movement, alarm mechanism
Various dial versions, partially without
appliqued logo.
Gold plated 20 micron
About from 1973 to 1977
Related Links