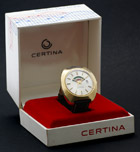 For people who want to know if they are having a good day or a bad day, at the beginning of the 20th century the Austrian psychologist Hermann Swoboda and the Berlin doctor Wilhelm Fliess brought the idea of biorhythms into being. The biorhythm is a scientifically unconfirmed theory that claims that one's life is affected by rhythmic biological cycles and therefore can be calculated. These inherent rhythms are classically composed of three cyclic rhythms: the physical, having a duration of 23 days; the emotional (28 days); and the mental (33 days). The biorhythm became popular in the 1980s, when due to the first programmable calculators and personal computers, it was possible to easily calculate one's biorhythms oneself.
In 1965, Certina had brought the Biostar to market. It was the first (and as far as I know the only) wristwatch from which you could read your biorhythm.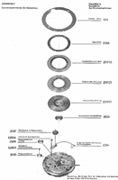 The Biostar (reference 7301 050) had the manual movement 28-163 inside, which was derived from the 28-161, and had an additional Biorhythm mechanism.
After that, in the Biostar Electric (which was produced from 1971), an ESA 9154 Dynotron was mounted, which Certina equipped with an additional "Biomechanism" too. This movement had the designation 28-353. This model was presented first in 1971 in Basel at the "MUBA" fair. In addition to the two wristwatch models, the biostar was also available as a pocketwatch (Ref. 7501 050) and table clock (Ref. 721 3549 25).
All Biostar models first must be adjusted to the birth date of the owner. For that you have to open the watch and synchronize the cycle discs with the aid of the setting values. If that is exactly what you want to do, here are the appropriate instructions (in german).
The setting values could be requested from the Biorhythmik AG in Basel, Switzerland for example. There you could also request documents about the biorhythm theory and some "Biomaps". The date of birth could be carved into a field inside the caseback.
Well, it seems that the idea of the biorhythm did not last, and in the middle of the 1970s, this interesting concept (in my humble opinion), disappeared from the picture.
Model
Reference no.
Calibre
Dimensions mm
Comments


Biostar Manual winding
7301 050
Certina 28-163
D: 35.0
H: 10.0
Manual winding.
From about 1965 to 1970


Biostar Electronic
7501 001
Certina 28-353
ESA 9154
39 x 44 x 14
LW: 20
Various dial versions
From 1971 to 1974


Biostar Electronic
7506 001
Certina 28-353
ESA 9154
39 x 44 x 14
LW: 20
Case 20 micron gold plated
Gold or silver dial
From 1971 to 1974


Biostar Electronic
Pocket watch
7501 050
Certina 28-353
ESA 9154
41 x 46 x 14
Dark blue or silver dial
From 1971 to 1974


Biostar Electronic
desk clock
721 3549 25
Certina 28-353
ESA 9154
39.5 x 39.5 x ?
Dark blue or gold dial
About 1974
Related links